 
copy of CASIO CDP S100 BK Digital Piano

CASIO CDP S100 BK digital piano
Color: BK (black)

FREE SHIPPING
The new base model of the CDP-S line inspires great features: a new hammer keyboard,
a new generation of sounds, a new sound system and an option to connect to the
Chordana Play for Piano. In addition, the CDP-S100 is extremely compact and can run on batteries.
With the optional CS-46 tripod, this portable instrument transforms into an attractive,
free-standing instrument.
Specification:
Sound Engine: DYNAMIC Stereo Sound Engine
Built-in metronome (20-255 BPM)
Reverb and Chorus
88 weighted keys
USB interface
64-voice polyphony
5 demo tracks
Internal speaker system (2 x 8W)
Optional wooden tripod (CS46)
3 sensitivity levels
Weight: 10.5kg
Dimensions: 132.2 x 23.2 x 9.9 cm
Transposition: +/- 2 Octaves
Connectors: MIDI, USB B, Damper, Headphone Out, Stereo AUX
Power supply: 12V (power supply or batteries)
Compatible with Chordana app
Until now, financial instruments CASIO a 3-year warranty. From now on, you can be sure that
that your equipment will be protected for up to 5 years after purchase. All this at the price of the instrument itself.
Such a long warranty period is only possible because all instruments CASIO stand out
technological advancement and reliability. More details can be found in the terms and conditions.
We invite you to music salons for purchases covered by the new warranty rules.


Important information:
Keyboards are CASIO a 5-year warranty
Pianos CASIO can be serviced directly at the customer's premises at no additional cost.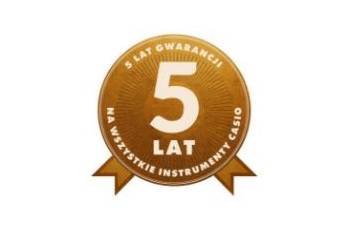 Reference: CS-46
Brand: CASIO
39 other products in the same category: